The Adventures of Marisol Holmes
The Adventures of Marisol Holmes: Paris Catacombs
A Study in Shifters is set in two primary locations: the first one is Waynard Academy, a boarding school in England, and the second location is Paris.
Now, luckily, I've visited Paris a few times before, three times to be exact. This helped me get a feel of the place before I wrote about it. I know all the tourist attractions, the landmarks, some of the street names. I've seen the Notre Dame twice so I can describe how it looks like, what feelings overwhelm tourists as they head inside.
But the one place I haven't visited yet in Paris, is the catacombs.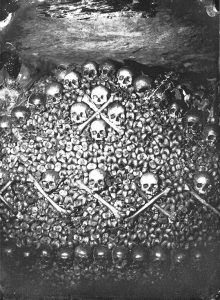 Now, I've been in catacombs before, particularly the ones in Rome, and you get more or less the same claustrophic, slightly eerie vibe as you head into that underground labyrinth. For the Paris catacombs, I had to do some reseach though, considering I'd never been there.
Turns out the Catacombs of Paris aren't really all that old. They were founded in the eighteenth century, two millennia later than the ones founded in Rome. The officials of Paris were struggling with two problems in the eighteenth century: cave-ins and overdlowing cemeteries. During the night, they transferred remains from the cemeteries to reinforced tunnels underneath the ground. More than six million people are now buried in the catacombs of Paris.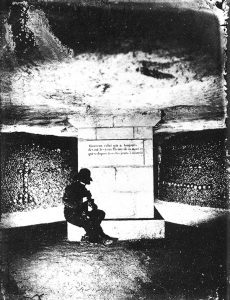 Nowadays, Parisians refer to the tunnels under Paris as the "catacombs" – not just to the smaller network of catacomb tunnels themselves, but to all underground tunnels.
A fun anecdote about the Paris catacombs, in 2004, police discovered a fully equipped movie theater in one of the caverns, equipped with a giant cinema screen, audience seats, and a complete restaurant.
If they could hide all that in one of those underground caverns… Think about what else could be hidden deep inside those catacombs.
The pictures used in this post are actually pretty amazing. They've been taken by Felix Nadar in 1861, and show case the very first use of the illumination technique with artificial light. The pictures are from Wikimedia Commons, and to see the fulll collection, go here.
Bewaren
Bewaren
Bewaren
Bewaren